SIZING INFORMATION
BANGLE SIZING
To determine your bangle size, follow these steps:
STEP 1: Bring your thumb to your little finger closing your fingers together, like if you were putting on a bangle.
STEP 2: Then using either a strip of paper or a tape measure, wrap it around your hand at the widest point and make a note of where the tape measure meets up. If you are using a strip of paper, mark where the strip crosses over and then measure that using a ruler. This would be the circumference of your hand.
STEP 3: Compare your hand circumference to the chart below.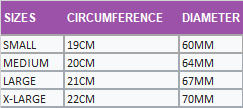 BRACELET SIZING
Please note that the sizes detailed in the bracelet's description are the bracelet sizes, not wrist sizes (i.e. they are 1 to 1.5 inches larger than your wrist measurement). Some of my bracelets are adjustable and this will be noted withing its product description.
Measuring Your Bracelet Size:
Wrap a soft measuring tape or piece of string snugly (but not too tightly) around your wrist, just below your wrist bone. Mark the length, (cutting and/or measuring the ribbon with a ruler) and add 1 to 1.5 inches. This is your bracelet size.
OR simply measure a bracelet that fits you comfortably and is similar in style to the one you want to order. Remember, a chunky bracelet will fit you differently than a delicate one, and will need to be a bit longer to accommodate the width of the materials.
Don't forget to measure the bracelet end-to-end, including the clasp.
Please bear in mind that it's better for a bracelet to have a slightly looser fit than being too tight!
If you're still unsure about what size is best then please feel free to email me and I will gladly assist!
RING SIZING
How to Determine Your Ring Size:
This at home method is an easy way to get an approximate ring size, but I would aways recommend getting properly measured at a jewellery store or you can purchase a ring sizer here: https://www.kimryanjewellery.co.uk/ourshop/prod_7217026-Adjustable-Ring-Sizer.html
Your ring should be a comfortable fit; snug enough so that it won't fall off but still loose enough to fit over your knuckle.
Finger sizes also change depending upon the weather and the time of day. They are usually smaller in the morning or when cold, therefore it is best to measure them at the end of the day and when they are warm.
I would recommend measuring your finger a few times to make sure you get the correct measurement.
Step 1: Wrap a string or piece of paper (no wider than about 1cm) around your finger.
Step 2: Mark the point where the two ends meet.
Step 3: Measure the string or paper against a ruler.
Step 4: Find your nearest measurement on the chart below to determine your ring size.